Why are flip books becoming more and more popular?
Paper-based reading materials are gradually evolving into digital media through e-books, virtual magazines, and more. The use of digital page-turners is increasing due to the popularity of tablets, e-readers and other mobile devices. For example, swiping your finger across the screen and flipping through those virtual magazines or books is remindful of the traditional form of reading that many people still enjoy.
A flipbook (or known as a page-turning book) is an interactive online HTML5 publication with the look and feel of a real page-turning publication (including page-turning sound effects, page shadows, etc.). Page turn books are currently being used to replace traditional digital pdf and paper documents such as reports, presentations, magazines, catalogs, manuals, books, etc. Digital page-turning books look and feel exactly like print publications that can turn pages – and do not require printing costs.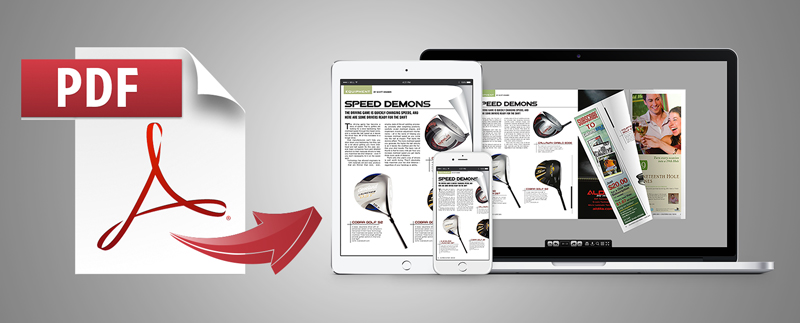 The difficulty with traditional physical catalogs, however, is that potential customers open the printed catalog or flyer and can't find a way to take immediate action. They may put it down and walk away. Some companies have begun developing digital flip books as an intermediate solution for catalogs, brochures, annual reports or other visually intensive marketing materials.

(Upload PDF to Online Converter)
Benefits of Digital Flipbooks
Huge savings – Using flip books can greatly reduce marketing and advertising costs. As there are no printing or distribution costs, and revising or updating publications becomes easier and more effective (i.e. With no printing costs, materials and distribution through labor or shipping, flip books have low and single conversion costs)
Share with ease – Reach your users on different devices such as PC, Mac, iOS and Android social media. Embed your flip book on your website or share it on WordPress, Facebook or Twitter. Many businesses use the well-known flipbook software and tools to publish their brochures.
Any format anywhere – A flip book can be anything you want it to be. It can be an e-book, a magazine, a company brochure, a report, a flyer, for your company website, social media, blog and anywhere else.
Easy to search – Flipbooks help users search for keywords more easily. Some flip books also have a bookmark feature, but not all.
High Impact – Flip books can convey almost any text and images even better than traditional print. In fact, thanks to interactive graphic design, flip books can be even more colorful, engaging, and compelling than traditional printing material.
Improve your Site Traffic – Flipping books can be combined with SEO techniques, for example, like other digital content, to monitor and track visitor traffic and viewing patterns to help you rank on search engines.
Advertising revenue – flip books can include links to products, companies or any other advertising opportunities you want to take advantage of in the content Promote your own work or bring in additional profits by selling advertising space.
Interactive Features of Flipbooks
In many cases, converting pdf to html5 web digital flipbook can provide a great presentation solution for your eBooks, brochures and catalogs. Even better, it allows you to turn your customers' attention into action in a way that a paper catalog or a simple PDF file cannot, for example, by signing up for your company's online membership or filling out a product survey. The digital flipbook has many other additional features, such as:
Ability to add YouTube videos, lead capture forms, animated banners and ads, images and links, search flipbook content, categorize flipbooks into bookshelves, SEO optimization, Google Analytics, embeds, popup for additional information, audios, and more.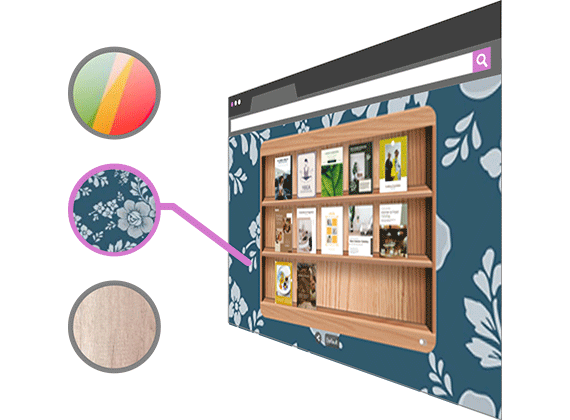 Visual Paradigm Flipbook Tool
Visual Paradigm flipbook Tool focuses on providing page turning effects that stay clear and fast on all desktop computers and mobile devices. It creates the most realistic page-turning experience, optimized for brochures, magazines, catalogs and other high-quality print publications where you want to preserve the layout in your publication and provide readers with a realistic, maximized viewing experience as they flip through your publication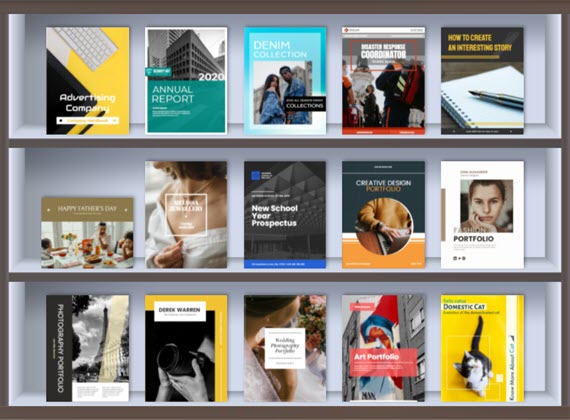 (Take A look of the Flipbook Samples)
A good flip book can really set you apart from your competitors and have a lasting impact on potential customers; by sharing it where people can see it, i.e. on your blog, Facebook or website. You can generate buzz and drive more traffic to your business.
Increase reach – Visual Paradigm is trusted by companies of Fortune 500. Ready to connect with millions of target users?
Online bookshelves – Catalog your publications with beautiful bookshelves. You can personalize the shelf with custom theme and style.
Responsive – Supported on different browsers and devices with auto adjusted size of books and bookshelves.
Flipbook editor – An online design tool to create your publications. It packs the most advanced features in a simple drag and drop interface.
Public vs Private sharing – Let your publication accessible by the public, or get a URL to share your book with family, coworkers and friends.
Download PDF – Convert a flipbook to PDF, the global standard for reliably viewing, printing, signing and commenting.
Learn More about Visual Paradigm Flipbook