PDF originally created by Adobe Systems for exchanging and distributing documents with complex formats. It has two major advantages. First, it is ubiquitous: many applications can create PDF files, Anyone with free Adobe Reader software can view them. Second, the format can replicate just about anything you see on a printed page.
The biggest downside is that files can get bloated, especially if they contain lots of photos or other graphics. Another problem with PDFs is that the files are not easy to edit content, copy and extract
PDF Reader
PDFs are generally read-only readers for reading and printing, so why make PDF files editable?
PDF editing is easy with PDF editing software tools. Just open the document in the editor and watch it convert the PDF file to an editable Word document or other editable file format. The most common ways to edit PDF documents include:
Please note that when a pdf document is converted to other formats such as MS Word or others, its format will be converted to other document formats. It's also very unlikely if you want to keep the maximum font type, layout while editing the PDF document.
Several Different Ways to Edit PDFs
If you just need to read and print PDF files, the free Acrobat reader might be your choice.
If you want to edit a PDF document, but you don't mind that the format and appearance are not exactly the same as the original PDF document, then MS Word is your choice. If you want to use a free software for the above purpose, then LibreOffice or OpenOffice May be your choice.
If you don't want to install any software tools, or you need to be able to do it anywhere, anytime, a good online PDF editor might be the way to go.
So, what are the criteria for choosing a PDF editor that best suits your needs?
Lack of real editing capabilities – many pdf editors only allow you to highlight, add comments or annotate the original pdf, you won't be able to edit, or change the text of the pdf.
Size and Loading – Some PDF editors take too long for you to upload a large PDF for conversion, and worse, it will tell you that the upload failed a few minutes after uploading the file. A large PDF often makes some online tools unresponsive or even hangs.
Can't keep original PDF content and style – many online PDF editors destroy the original PDF file format, style and content
Acrobat Pro can edit PDF files, and at the same time it is a desktop application, and its licensing fee is also high ($20/month).


What online PDF editor do I recommend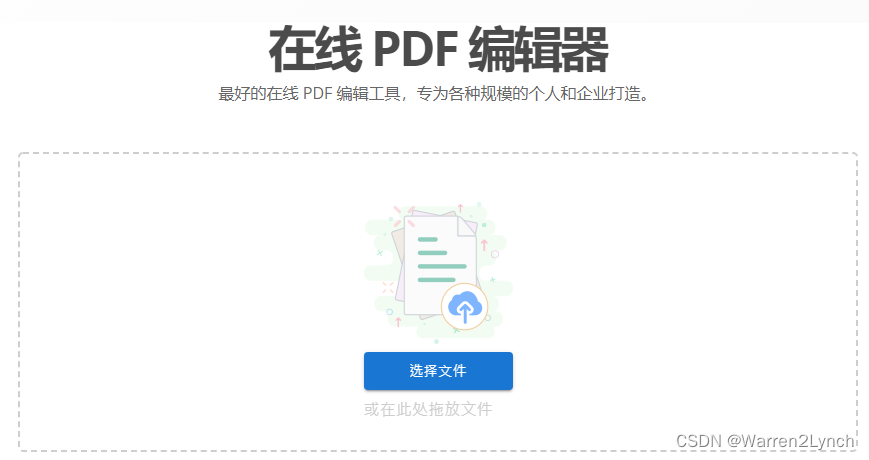 I, just like many people, have been using PDFs for so many years. I need to use it all the time, not just for viewing reading or printing. I often need to touch up little things in PDFs after office hours in airports, coffee shops. Therefore, a good online PDF editor is quite necessary for your life.
Here's a great tool that I would highly recommend to you based on the evaluation criteria above.
Easy to use
The intuitive drag-and-drop PDF editor is optimized for fast and smooth editing of text and graphics in any PDF file.
Excellent PDF editing
Ability to edit text and graphics in PDFs, change font settings, and add new content such as videos, photos, animation effects, and more.
Online PDF tool
Visual Paradigm Online runs in the cloud on our secure servers. You don't need to download or install any software tools to edit your PDFs.
Cost-effectiveness
A cloud workspace, plus a wealth of professional PDF editing tools, to manage, edit and share PDF files at a lower cost than other PDF products like Adobe.
It contains everything you need for PDF editing
Edit text and graphics
Fix spelling mistakes, change font settings and add new content. Edit graphic content: resize, apply filters/effects, etc.
Optimized for large files
Upload and start editing large PDFs in seconds. Our PDF software is optimized for handling large PDF files, file types that other PDF tools cannot handle.
Our flipbook reader makes it easy to share and read PDF files online via URL, social media or embedded content.
Easy-to-use PDF editor
Simple PDF Editor is designed to make it easy for anyone to edit PDFs. You can add text and graphics and make further changes such as adding icons, videos and charts.
Edit your PDF online from anywhere
Our online PDF software runs in the cloud. You can access your PDF files from any web device and browser: Chrome, Edge, Firefox, Safari, etc.
Not just text You can also add videos, icons, illustrations, diagrams to PDFs. You can even apply animation effects to text and objects in your document.